Ortofon Quintet MC Cartridges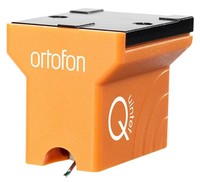 The Quintet Story
Nothing demonstrates Ortofon's long-standing resilience more than its commitment to the refinement of analogue sound quality and its continued development of new cartridge models. Since 1948 Ortofon has introduced about 100 different Moving Coil models. "We believe the cartridges in this new series are more than worthy successors to the long line of models that has made Ortofon the global leader in the manufacture and supply of phono cartridges. The MC Quintet Series is a direct result of our continued research and innovation".
The MC Quintet Series is congruent with Ortofon's unrelenting commitment to providing the most precise and accurate reproduction possible without coloration:
A special ABS (Acrylonitrile/Butadiene/Styrene) thermoplastic material is used for manufacturing of the body. This light-weight, impact resistant material is very suitable for injection-moulding and provides a very durable scratch resistant surface.
Neodymium magnets are implemented to achieve an optimal output.
Low internal impedance makes the cartridge less sensitive to load and therefore ensures compatibility with the widest range of preamps and transformers.

Each of the five Quintet Series cartridges has its own individual sonic expression, and all five models together represent the ensemble of five classic variations:
MC Quintet Mono is a true mono cartridge for playing mono microgroove vinyl records.
MC Quintet Red is an all-purpose cartridge that delivers open, dynamic sound with a slight touch of warmth.
MC Quintet Blue adds more dynamics and resolution, sounds more open and reproduces more details.
MC Quintet Bronze adds even more details and resolution but in a very evenhanded way that pays respect to all elements.
MC Quintet Black S is the best of everything, true to the groove with resolution and accurate insight into each recording.